About Christine
Christine Luksza-Paravicini began her photography career in High School where she studied darkroom techniques and composition for 2 years. After earning a degree in Latin and Classical Studies from the University of Texas, she picked up the camera again and immersed herself in fine art photography while teaching Latin in Texas. She has been professionally photographing for over 15 years and has been working on a long-term fine art project documenting the pregnant figure. A book about her series "See How We Are" is under way.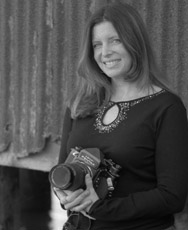 Christine has won numerous awards for her photography and has shown her work at three FOTOFEST Photography Festivals in Houston, TX, The University of CA at Berkeley, and the former Sonoma Museum of Visual Art. Her work has been featured on the cover and within Mothering Magazine and most recently in a new book by the The International Museum of Women's Imagining Ourselves Collection (IMOW). Other collections include The DiRosa Art Preserve(DiRosaPreserve), Woman Made Gallery(Woman Made), and the Barry Singer Gallery, as well as many private collections in the US and abroad.





PHOTOGRAPHER CELEBRATES PREGNANT FORM

Published on May 20, 2005 - The Press Democrat

Maternity fashion has long favored loose, flowing garments downplaying or disguising a pregnant woman's changing physique.

But that trend is shifting, and expectant mothers are now seen in public with snug T-shirts and form-fitting jeans stretched across their bellies. Fine art photographer Christine Luksza-Paravicini has been ahead of the curve with her celebration of the pregnant female form, often in abstract, graphically powerful compositions.

Her exploration began when she was struck by her own changing shape with her first pregnancy eight years ago, and she's been creating images of pregnant women since then. ``I have a feminist perspective.... There's no lack of the perfect female nude, not just in art but in all media,'' Luksza-Paravicini said. ``I realized what we don't see is much of real women or pregnant women.'' She recently had some of her photographs displayed at the United Nations as part of an exhibit observing International Women's Day. She also will have her pictures displayed at the International Museum of Women, which is under construction in San Francisco, and in its anthology titled ``Imagining Ourselves.'' A selection of her work is currently on display in the maternity unit of Petaluma Valley Hospital. In addition to creating art using the rotund shape of women, Luksza-Paravicini does commissioned portraits of women who want to document the last few months of pregnancy. Luksza-Paravicini learned black and white photography and darkroom skills at a small, private high school in Pennsylvania. ``I discovered I had an interesting eye and a sense of humor would come through,'' she said. When Luksza-Paravicini, a former high school Latin and English instructor in Texas, first considered photographing pregnant women, she had the good fortune of being able to tap her mother-in-law's extensive list of clients. Her mother-in-law works as a doula, preparing women for childbirth, guiding them through the labor and delivery, and helping in the early days of caring for a newborn. Many of her clients and Luksza-Paravicini's pregnant friends enthusiastically agreed to model, making it easy to assemble a group of women if she wanted multiple pregnant women at one time. One of her popular images is entitled ``Lily Pads'' and shows women floating on their backs in a pool, with their enlarged bellies protruding above the water. The women are floating peacefully in the water with their eyes closed, and are lined up in the pool wearing black, two-piece undergarments. ``One of my trademarks is any time I photograph women I like to have them in a matching ensemble and I like to photograph women in at least their seventh or eighth month of pregnancy,'' she said. Luksza-Paravicini also has pushed beyond conventional photography by taking slides of paintings she's found in art books and projecting them onto images of pregnant bodies to create a collage effect. She's experimented with graphic manipulation and distortion, and at times incorporates natural objects, such as a creeping vine or pieces of fruit, and projects them onto the female shape. Most of her results are pleasing to the eye, but one of her photos combines an ancient statue with a smattering of red splashed on the image, creating an illusion of blood, and some viewers find that upsetting. ``Most of my work deals with the lighter side of pregnancy. It's beautiful and playful. In our culture, it's a safe experience, but in a lot of cultures it's not safe and women still die in childbirth,'' she said. ``I think conversation is a good thing. I'm not trying to scare people.'' Luksza-Paravicini is planning to expand her work to include a photo exploration of bellies, which will include men and nonpregnant women, seniors and children, and she would like to compile enough images for a photography book. ``The belly is where we keep a lot of stress. It's where our organs are,'' she said. ``It's very tender and vulnerable and a part of the body we cover up a lot.'' A gallery of Luksza-Paravicini's work can be viewed at her Web site, www.artofpregnancy.com.

You can reach Correspondent Janet Parmer at 782-9130 or jhparmer@comcast.net.
LINKS
We list the following resources in the hope that you will find them helpful and informative. Please note that we are not affiliated with any of the sites below, nor do we guarantee the quality of the services or the accuracy of the information that may be offered therein.