Christine Luksza's Artist Statement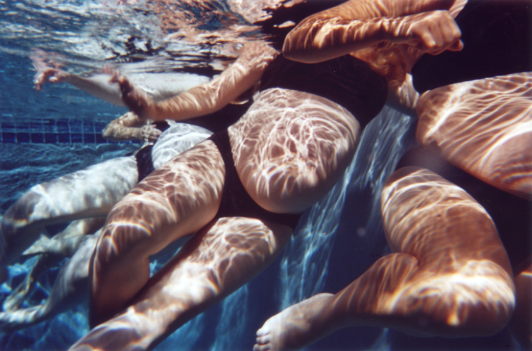 The issues of perfection, distortion, and the representation of the female figure have been of interest to me for many years. I became drawn to the pregnant body in 1997 as I witnessed my own body change and distort during my first pregnancy.
Within our culture a dichotomy of attitude exists concerning pregnant women. While we are celebrated for the life we are creating, we are simultaneously being reminded of the pressure to keep or regain the lean and supple shape of the ideal female body, which is constantly being promoted through most main-steam media. During pregnancy, many women outfit themselves in large, flowing clothing in order to cover their swelling bellies.
In my work, I want to expose the huge belly, as well as the enlarged breasts, hips, and even thighs, which all tend to grow along with the belly during gestation. In my mind, the pregnant body is truly extraordinary; there is so much physical change occurring both within and without. By photographing pregnant women, I hope to share with others all the curious features their bodies temporarily behold.
Thus far my work has taken a number of directions: a) abstraction of the figure; b) distortion and immersion of the figure; c) comparison and contrast of bodies; d) illustration of the connections with past cultures through symbolism, metaphor, and iconography; and e) portraiture. Through all of these depictions, and new ones yet conceived, I am working towards creating a comprehensive portfolio that will earnestly examine and celebrate the pregnant figure.
I feel that I have just started to scratch the surface of defining all the ways in which we can view pregnancy and the female figure. As I continue my exploration, I hope to reveal the beauty, strangeness, and fleshiness of gestation and its effect on the body. Last, I want us to look carefully at who we are. I want us to see the imperfection and the true wonder of our bodies. It is my hope that these images will be refreshing in contrast to the constant media barrage of the "perfect" (and non-pregnant) female figure. And perhaps, after seeing more real bodies so intimately, we might be a little more forgiving of each other and ourselves.
Christine Luksza-Paravicini 2004
Interested in collecting a print? click here.